New Patient Information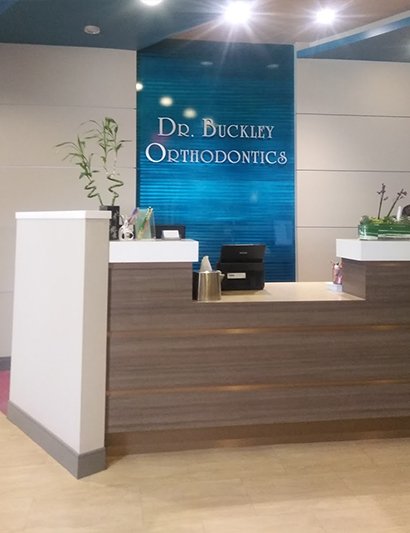 Your first visit to our orthodontic office is an exciting time! It's a chance for us to get acquainted, and for you to learn about the treatments and services we offer. When you walk in the door, you may notice that our office looks similar to your regular dentist's office; what we do here, however, is a little different. It all starts with the initial consultation.
You should plan to spend at least an hour with us the first time. That's to ensure that no one has to rush, and that you get plenty of time to ask any questions you may have. You will meet one of our receptionists who will take some information from you. Our patient coordinator will walk you through the office, next it's time for some diagnostic work and an exam.
Let's Make a Plan
The first part of our job is to determine what treatment would be necessary to get the outcome you are looking for and to correct any concerns we may find. If you have any Radiographs (X-Rays) from your dentist please bring them with you, these can help us with determining treatment. If Dr. Buckley sees it necessary we will ask you to take a Panoramic Radiograph (X-Ray) of our own, to help see what is going on underneath the gums.
Our procedure starts with Dr. Buckley preforming a careful examination. We may ask you questions, such as whether your jaws make noise while opening and closing. Also if there are any problems chewing or swallowing. This information taken together will allow us to make a proper diagnosis and finalize the treatment plan.
Discussing Your Treatment Options
Following the exam our treatment coordinator will discuss your treatment options and answer any questions you may have. Additional time has been set aside if you or your child is ready to start treatment, with a state of the art scanner it will take part of the initial records, in most cases a putty impression is no longer needed, this makes the level of comfort much greater. Next a series of radiographs and photographs will also be taken. Sometimes you might not be ready for treatment just yet and we will advise you to return for periodic checkups until we determine that it's the best time to start. This is depending on the developmental stage of the teeth and jaws.
Now that we have a treatment plan, we will also explain what the cost of care will be, and what payment options are available and you are on your way.
Whether you're starting now or later, this is the best time to ask questions about the process. We can talk about available treatment choices, answer general questions about what to expect at the different stages of the process, and discuss any of the following:
Can orthodontic treatment benefit me (or my child)?
What general procedures will be used to correct the problem?
Are any options available (or recommended) for my treatment?
Should I get treatment now, or is it better to wait?
Will tooth extraction be necessary?
How much does treatment cost? Are payment plans available?
How long do you expect treatment should take?
When you leave our office, you will have a better understanding of how we can help you get the best possible smile. So why not take the first step now — call us for a consultation!
We strive to provide you with affordable, high-quality treatment that fits your budget! We offer a variety of payment options to meet your needs. Our office accepts payments by cash, checks, and Visa, MasterCard, American Express and Discover credit cards. We also offer low- and no-interest financing options through CareCredit. If you have any questions about payment, ask us! We will thoroughly explain your choices and work hard to accommodate your needs.
*Links to CareCredit may not open in older browsers. If you experience any issues, please ensure your browser is updated to its most current version.
Insurance
If your insurance covers orthodontic treatment, you will receive the benefit of reduced personal costs. Many insurance policies have a lifetime orthodontic benefit that is distinct from regular dental insurance. Insurance policies vary, so we will review your insurance to determine the appropriate course of action. Once treatment has started, we will file your claims.
Please remember that orthodontic insurance is a benefit for you or your child. If, during the course of treatment, your benefits change, the financially responsible party is accountable for all charges.